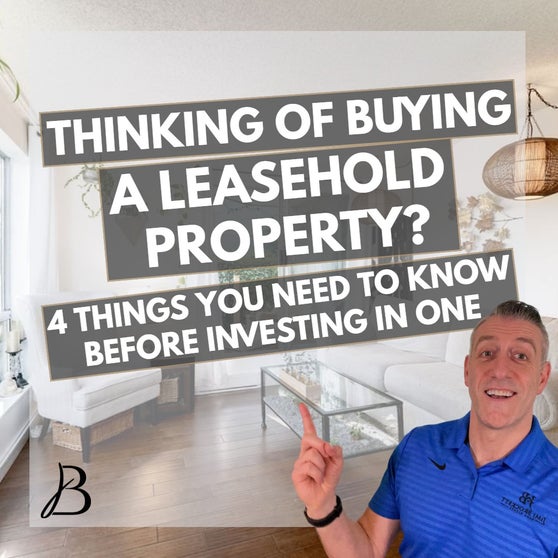 If you've ever wondered or been tempted to buy a lease or property, then this blog is for you. I'll be covering the four things you need to know before investing in one. 
#1 'What is a leasehold property?'
A leasehold property means that the owner owns the house the townhouse or the condo itself, but not the land that is built on. The land is leased to the homeowner by the land owner. Leasehold land is basically a plot of land that has been rented out to a developer who then builds on the land and rents a property for a certain sum of money. The leases on the plot of land are
typically for an extended period of time up to 99 years.
And very often, prepaid upfront which I'll explain in number four, and often belong to either the city or in many cases a corporation, a university or first nations reserve land.
Some examples of locations are false creek, close to Granville Island as well as South East Vancouver along the Fraser river which are owned by the city of Vancouver. And various corporations own much of the leasehold lands in Vancouver's West end.
#2 'How long can you own a leasehold property?'
If you decide to buy a leasehold property, you are essentially purchasing the right to possess that property until the end of the lease or
until you sell it to somebody else whichever one comes first.
With a leasehold property, it's extremely important to find out the details before you make a purchase. All leasehold land will have at
least agreement
outlining details such as the terms of the lease and what happens at the end of the lease. If you own a property on a non-prepaid leasehold land you're making monthly lease payments, the lease agreement will also tell you whether the
owner can raise your lease payments
, and if so at what intervals on what time.
#3 'Prepaid leases.'
In addition to your strata fees and taxes, it may or may not be required to pay a monthly lease payment on your leasehold property. The only way to find out is by carefully reviewing the lease agreement. A prepaid leasehold means that the developer has paid the lease payments ahead of time. So, you will not have to get that extra bill. Although most
likely the owner has already combined these fees into overall cost and value of the property.
Non-prepaid leases are often found at first nations lands, which will see you ponying up more expenses every month.
#4 'Can I get a mortgage on a leasehold property?'
Unfortunately there is no real easy way to answer this question. Generally speaking, however,
leaseholds are more challenging.
To begin with most lenders will not approve a mortgage or a term or amortization that is longer than the lease itself. Which depending on the lease expiration date can be problematic. At any time, the property is not a freehold strata, there will be limits but some lenders will be more open to the possibility. Your options will over be further reduced for first nations reserve leasehold and private leaseholds are the most challenging.
In many cases, the only option may be a private lender but even that is not guaranteed.
So, there you have it
four things you need to know before investing in a leasehold property.
If today's video led to more questions or you'd like to chat more about leasehold opportunities, please don't hesitate to reach out. I'd be more than happy to have a coffee and a chat with you 604 551 7959