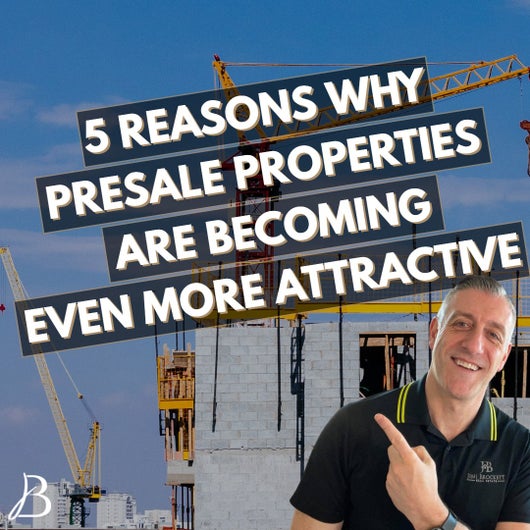 From first-time home buyers to investors and downsizers, pre-sale properties have always been an extremely attractive opportunity in the real estate market. The buying of pre-sales and the process are entirely different from that of a standard resale property.
Buying a pre-sale property means that you are buying the rights to a future home which comes with several significant benefits. 
But before we get going, let me define what a 'Pre-Sale' actually is. Well a pre-sale is when a developer brings properties from a particular development to the market before construction has begun. This allows buyers to own the rights to a future home in exchange for placing the deposit down on the property. It's typical to see a buyer put down anywhere from 5 to 20% of the purchase price. And this goes into a trust account until the development is completed. 

Here's 5 reasons why pre-sale properties are becoming even more attractive to buyers in today's market.
#1 'Flexibility'
Pre-sale properties can take up to four years to be built giving buyers a large time frame to fix up and sell their current home. It give buyers time to save up for a bigger down payment and it gives them a slow and comfortable move. It's not uncommon for individuals who anticipate an uptick in the market over the coming years to invest in a pre-sale property. Especially, for those who are close but not quite ready to sell their home. This strategy has become very popular during the pandemic. As many homeowners are choosing to wait and sell in a few years while still locking in today's pre-sale prices. There's also a large segment of current homeowners looking to downsize in the near future and buying a pre-construction property gives them the time they need to get ready to sell without a huge upfront price tag.

#2 'Investment opportunities' 
Leverage can be one of the major benefits of purchasing a pre-sale property. Buyers can typically secure a purchase with as little as 5 or 10% deposit. Leaving them with an opportunity to see significant returns should the property increase in value. Locking in a price on your purchase date has proven extremely profitable to many buyers over the last decade. When the market goes up investors can realize market gains without the cost of regular mortgage payments. Maintenance fees and property taxes. An additional reason that pre-sale properties can make great investments is the development's commitment to the areas where they build. New developments can truly transform neighborhoods in a matter of years. With commercial space for new businesses often accompany new projects. It can be very profitable if you spotted transformation taking place. Especially, if other developments are going up in the same area.
Brand new buildings simply have fewer problems than older buildings and their units. Buying a pre-sale from a reputable developer typically won't require repairs for a significant period of time upon the completion of the projects. This gives you a few years to enjoy your home without the stresses of repairs that often come with resale properties. There's no worrying about a leaky condos, pipes bursting or a roof replacement when you move into your brand-new property. It's likely to be many years before significant maintenance or replacement costs are associated with your home.
Pre-sale construction comes with a warranty which is another benefit to purchasing a pre-sale property. In British Columbia for example, the 2, 5 & 10-year home warranty insurance is included on all pre-sale construction. This warranty means that your potential costs are limited for an extended period of time. Two years on any labor and/or materials electrical, plumbing, heating, ventilation, air conditioning etc. Five years on the building exterior and ten years on the structure of the home. A 2, 5 & 10 year home warranty protects you from any unforeseen circumstances and ensures that you'll be able to be whole if any potential issues with the property upon its completion. There's also typically 15 months covered for any labor materials and materials associated with the common property.
Things can change over a few years and pre-sale property gives their owners many options when it comes to the ownership. You can choose to sell your assignment prior to moving in, find tenants and rent out your property upon completion. Or you can wait for the development to be built and move in for yourself. Finding tenants for a new property isn't as challenging task in most markets. As new units are typically more desirable and in high demand for renters. They have better amenities than the older properties. Better layouts, less maintenance, of course it comes in a brand-new state which is incredibly appealing. It's easy to understand why there is a higher demand from renters than older options. Besides being more desired by renters, they'll also permit you to rent out your property for more monthly rent than a comparable older property. More demand means higher rent prices and a better return on your investment.
Buying a pre-sale property has become a very attractive option in today's market. Compared to purchasing a resale property, the 5 to 10% deposit needed to secure a property, can be very attractive. Sometimes a waiting period can feel long, but time is often just what neighborhoods needs to develop into a thriving community and what your investment needs to mature.

So, there you have it five reasons why pre-sale properties are becoming even more attractive. If this blog has led to more questions or if you'd like to chat more about pre-sale opportunities, please don't hesitate to reach out. I'm always up for a chat and a coffee.