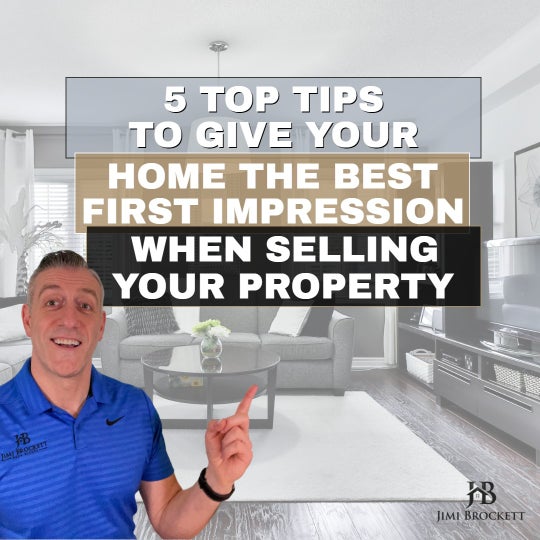 Okay, we all know how first impressions can make a difference when you meet somebody new, and it's no different when it comes to selling your home. Here are five top tips to give your home the best first impression when selling your property.
#1 - 'Curb Appeal'
Now this is just as relevant to condos as well as houses & townhouses. When a buyer pulls up to your property, you want to
make them feel like they're coming home.
Adding things like a nice reef on the front door or putting down a nice door mat can make a good impression.
Also making sure you tuck away any garbage cans or making sure the lobby is tidy, can also make a good first impression.
Then in the spring and summer add some flowers and, in the winter, make sure you keep up with the snow removal,
so potential buyers don't have to wade through snow to get to your property.
#2 'Clutter'
Tuck away those shoes. Make sure your coat rack by the entrance is clear behind a closed closet door.
Clear off any tables and counter tops as much as possible, and put any laundry or clothes away.
Buyers can be easily distracted by a seller's mess or clutter.
If you leave clutter out, it might take away from the overall home's appeal
. Point to note on this, the more counter space you see the less clutter the place will feel bigger, which is what you want for a potential buyer.
#3 'Smell'
You don't want your home to have any overpowering scents.
It can provoke a buyer into thinking that maybe the seller is trying to mask a not so nice smell
. Fresh scents like citrus or vanilla are always a good go-to. Open a window or two prior to a showing. And a really good pro level tip is to
bake some cookies or maybe a banana bread in the morning before the showings.
#4 'Temperature'
This is a big one, as it's hard for a buyer to envision themselves in your home if they don't feel warm and comfortable when viewing.
Make sure you keep it toasty warm in the winter and nice and cool in the summer
, even if the home is vacant.
#5 'Light'
I always encourage my clients to turn every light on in the home before a showing.
Open the blinds, let the light in, light a candle or two or turn on the lamps and put the fireplace on if you have one.
So, there you have it
5 top tips to give your home the best first impression when selling your property
. Be mindful that sometimes we are our own toughest critics. Remember rather than getting overwhelmed before showing or sidetracked,
focus on these tips and you'll be sure to give your home a great first impression. 
If this blog led to more questions about how to prepare your home for selling, please don't hesitate to reach out. I'd love to sit down and have a chat with you, how I could possibly help you to a successful sale.