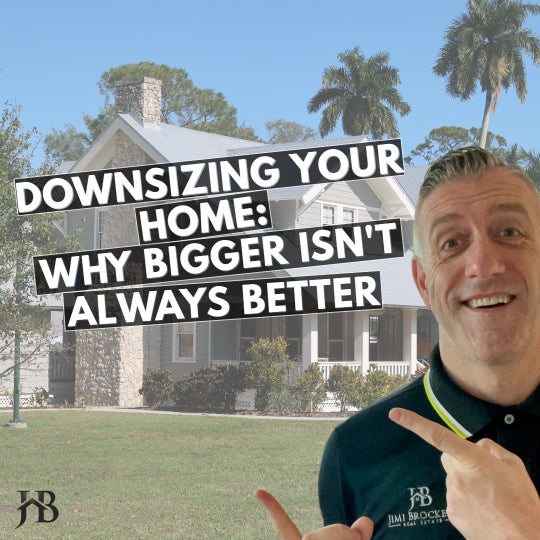 Okay, when it comes to your home and mortgage, upgrading to a larger house is not the only time thing that can change. With so many of us spending extra time at home during this pandemic, it's a great chance to evaluate how much space you actually need,

and the truth is bigger isn't always better.
Whatever the reason

downsizing

is a great option when you no longer need a full-size home, and perhaps you want to swap

your two-story family home to a rancher or maybe a cute little apartment or a townhouse

. Just as there are as many options for individuals looking to move up with expanding families, there are just as many of those looking to scale back and

there's plenty of benefits too

. 
Okay, some of the initial benefits when it comes to downsizing

(which should also can be referred to as right sizing)

your home includes the following.
You have a reduced maintenance requirement for a smaller lawn or square footage.

This means less time doing chores or more time spending doing stuff what you actually love to do.

 

You have a lessened environmental footprint with decreased energy and utility requirements. 

You have an increased monthly cash flow with lessened expenses due to decreased utilities or

lower mortgage payments

. 

You also boost your funds for retirement. 
It is good to remember that in preparation for your move,

there are a few costs that you will encounter associated with selling your home and buying a new one whether larger or smaller. These fees include realtor commission fees which range from somewhere between 2.5 to 3% of the home selling price.
There's also the closing costs and legal fees which are somewhere between 1 and 4% of the purchase price of the new home.

There're miscellaneous costs such as moving expenses, upgrading appliances or buying new furniture for the new place if it's smaller. And if you're moving into a condominium or townhouse, there are potential strata fees to consider.

Even if you are mortgage free.
DOWNSIZING!
Another option when you're downsizing a right sizing is a Reverse Mortgage (for more on reverse
mortgages
 click here). This is a loan secured against the value of your home and it's exclusively for

home owners of 55 years or older

. It enables the homeowners to convert up to 55% of the home's value into a tax-free cash payment.

With a reverse mortgage, you maintain ownership of your home

and you can use the loan to cover the cost to pay out any debts. This loan would need to be repaid in the event that you choose to move and sell the current home. 
BEST PLACE TO START
If you're considering a move whether due to decreased space demands, too much maintenance or financial reasons, the best place to start is to chat with a mortgage broker. This way you can discuss your options. They can help you evaluate your current mortgage,

the market and the walk through all the alternatives that may fit for your particular needs in today's market. They may even meet you virtually.
So, there you have it, downsizing slash right sizing and why bigger isn't always better. If this blog led to more questions, please don't hesitate to reach out. I'm always up for a coffee and a chat. 



604 551 7959