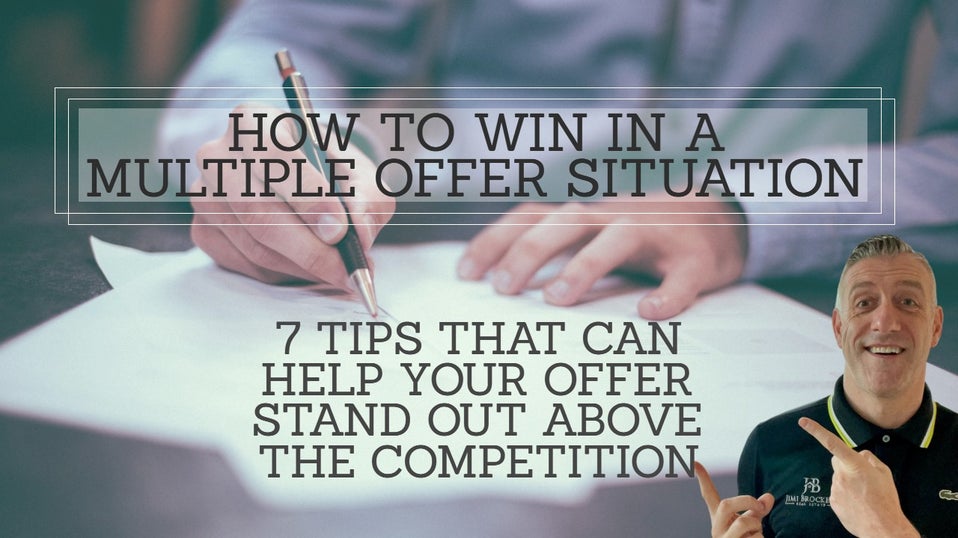 When demand is high and supply is low you can find yourself in a multiple offer situation, this is where you've found a potential new home, but so do a number of other people. This can then lead two, three, or many more offers on the table for the seller to choose from. In this situation, having a perfectly crafted offer can go a long way. Here are seven tips that can help your offer stand out above the rest.
#1 -
SHOWING PROOF YOU CAN ACTUALLY AFFORD TO BUY THE PROPERTY
If you want to look like a serious buyer, the first thing you need to do is
show the sellers that you can actually close on the home
. This means obtaining a
mortgage pre-approval letter from your lender
to prove that you can actually qualify for the mortgage. 
If you're a cash buyer, it's a great idea to submit proof of funds along with your offer
. 
#2 - PUT YOUR MONEY WHERE YOU MOUTH IS
This would be in the form of the deposit. This is the money that you state in your offer that will be due if the offer is accepted in a cash deal or after subject removal.
The size of this deposit will show how much of a serious buyer you are to the seller. 
Typical deposits are 5% of the purchase price of the property.
The bigger the deposit, the more attractive the offer is because it shows the seller how serious you are about buying the property and actually closing on the deal. 
If your plan on obtaining a mortgage, getting pre-approved can certainly speed up the process. But your lender may still require a certain amount of time to make sure everything is good.
However, it's a good idea to include the shortest realistic closing time frame as you can. 
If a seller gets three offers, two at 45 day closes, with yours at 30-day close,
it makes your offer more appealing and puts you at a nice advantage
. 
Now a standard subject period may be about seven days, but sometimes you can make your offer look stronger by speeding up the process. For example, you may have somebody that can come along with you when you do the viewing so they can do a good inspection,
or you might have the opportunity to do a pre-inspection depending on the time frame when they're accepting offers
. This means they get your inspection done before you put the offer in, so you don't need to include it as a subject. The point is sellers don't want to wait weeks to find out whether you're going to accept the property in its current condition or ask for repairs on that property.
If your offer contains no inspection, you're going to look way better than the next offer that might contain an inspection subject.
#5 SUBJECTS
It's typically not a great idea to waive the financing subject unless you be willing or able to pay cash if something went wrong with the mortgage approval.
However, you might be able to boost your offer strength by not including the satisfactory financing subject.
You can do this by
getting pre-approved on that particular property ahead of time, if time allows.
This would be a really great way to make your offer stand out above the rest
if you didn't include that subject. 
If you find the perfect home for you, and you live in a hot real estate market, where most inventory sells within just a few days of being listed.
It's not the time to try score a bargain or lowball the seller
. If homes are selling for full asking price or close to it in your area, you'll need to make sure you put in a strong offer to show the seller that you're serious. In many cases,
if sellers have received or expect to receive multiple offers, lowball offers aren't even counted and just flat out rejected
. 
#7 - MAKE IT PERSONAL
If you've done all the other things on this list but are still worried about losing out on the deal, it's time to make it personal.
Including along with your offer, write a personal handwritten note, telling them your story and your situation
. Sometimes this can make a connection if you're a growing family, or if it's your first place, and they might just
choose you over the next offer.
With inventory remaining low throughout greater Vancouver and the mortgage rates falling to record lows, competition for homes will heat up even more.
A smartly constructed, clean offer will make a difference and make you stand out as a buyer
, and give you the best chance of getting your dream home secured. 
So there you have it, seven tips to help your offer stand out above the rest in a multiple offer situation.
Remember, each deal is unique, and working with a well-versed and experienced realtor is absolutely key in helping you towards a successful bid in a multiple offer situation. If this blog led to more questions, please don't hesitate to reach out.
I'm always up for a coffee and a chat.
PRO TIP
To make your offer even stronger, you could get a bank draft for the deposit prior to submitting the offer. Then you attach a photo of that bank draft with the offer, and this will give the seller more confidence and in how serious you are as a buyer.