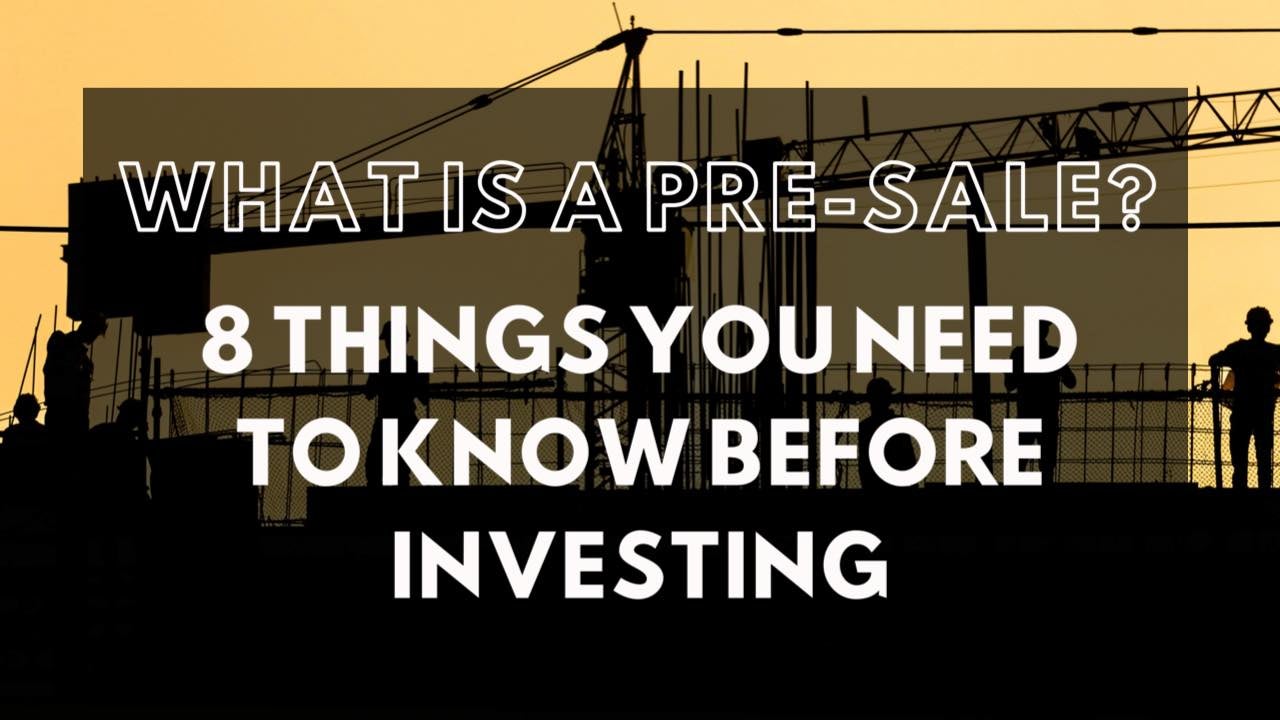 #1 "What is a pre-sale?"
Well, a pre-sale is an opportunity to buy a property before it's been built, sometimes before the ground has even been broken all the way up to a few months before completion. In effect, you're buying a contract for the purchase or future property.  

#2 "How much does it cost?"
It's a great question. It can vary from developer to developer, and will take into consideration things like the size of the unit, the location and any special promotions the developer might be offering. Remember, you're buying a contract for a future finished product, which is probably going to be listed at market value, in the hopes that if you buy it now, in 3 to 5 years when it's completed, it's going to be worth more.  


#3 "How much does it cost to sign a contract for pre-sale?"
While the answer to this is similar to number 2 in that it can vary per developer. But the only money that is due is the deposit which can range from 10% to 20% of the purchase price. And then this is often split between 2 or 3 payments over the course of anywhere between 3 and 6 months.  


#4 "How long does it usually take?"
Well, projects can range from anywhere between 3 and 5 years, sometimes longer, especially if you're buying before the ground has even been broken.  


#5 "Why would I buy a pre-sale versus an existing property?"
Well, just like an existing property, you'll buy at current market value, which is a great possibility for the property to appreciate in value over the course of the construction time 3 to 5 years. And you don't have to make any mortgage payments, and it can often be worth more when completed. Of course, there's no guarantees, anything can happen, and being fully educated and aware of all the possibilities is key. Another great reason is maybe you have the deposit, but you're not ready to commit to a mortgage yet, and you need a couple of years to get yourself into that position.  


#6 "When will I need to get a mortgage?"
Well, the great news about buying a pre-sale is no mortgage is required until completion. This means no payments at all outside of the initial deposit that is required. 


#7 "What if I can't close on the property upon completion?"
Well, it's a great question, and this could be for various reasons. But there are options. It can vary per developer, but if you find yourself in this predicament, you can sell your contract to somebody else, otherwise known as an assignment of contract. Again, there are rules and requirements that go along with this. And any good realtor can make sure you're making the right choices. 


#8 "Where can I find out about pre-sale opportunities?"
Well, there's a couple of great websites out there. One for instance is vancouverpresales.com. It's a good one, so check it out. But connecting with a great realtor to help your search is always a great idea. 

All in all, a pre-sale can be a great investment opportunity to take your first step into the real estate market. The key to remember is research. This is critical and will include things like who the developer is. Are they an established developer with a proven successful track record in a type of building you're looking at? Also, the location of development. Remember, "Location location, location," is saying for a reason. It would also include reading the fine print of the contracts, the requirements and stipulations and clauses that could affect your investment down the road. 



On a Side Note
Try not to get sucked into the video that can claim that you can own a place for as little as $20,000 down. While this is not quite incorrect, it's a little misleading, as that $20,000 down is usually just one payment of 3 or 4 for the deposit.  
So, there go, "What is a pre-sale?" and the 8 things you need to know before investing in one. 
If this blog led to more questions or sparked your interest in pre-sale opportunities, please don't hesitate to reach out I'd love to help.