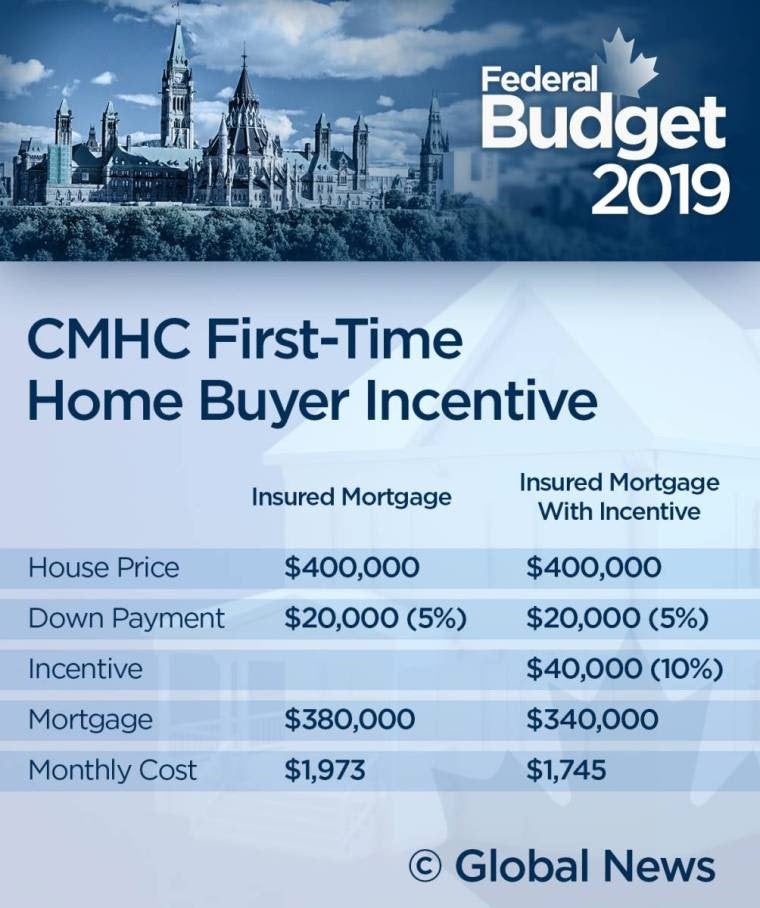 Home Buyer's Plan gets a boost
As was widely anticipated, the government would also enhance the Home Buyer's Plan (HBP), which currently allows first-time buyers to take out up to $25,000 from their registered retirement savings plan (RRSP) to finance the purchase of a home, without having to pay tax on the withdrawal. The budget proposes raising that cap to $35,000.

The new limit would apply to HBP withdrawals made after March 19, 2019.



New measures would encourage more borrowing, possibly drive up home prices


Economists said the new CMHC incentive and the enhanced HBP would encourage Canadians to take on more debt, stimulate housing demand, and possibly push up housing prices.

"It's a different kind of borrowing," David Macdonald, senior economist at the Canadian Centre for Policy Alternatives, said of the CMHC incentive.

And with a home-price limit of around $500,000, the program is unlikely to help middle-class millennials buy homes in Vancouver and Toronto, where average property values are far higher, said TD economist Brain De Pratto.



READ MORE: 
No plan for balanced budgets even if Trudeau wins second majority 
Those taking advantage of the higher HBP limit, on the other hand, would have to keep in mind that the government is not extending the program's repayment timeline, said Doug Carroll, a tax and financial planning expert at Meridian.
Home buyers must put the money back into their RRSP over 15 years to avoid their HBP withdrawal being added to their taxable income. Now Canadians will have to repay a maximum of $35,000 – instead of $25,000 – over the same period, Carroll noted.
In general, the economists and financial experts Global News spoke to saw the budget as being focused on demand-side housing measures, rather than policies that would encourage the construction of new homes.
And while the budget does earmark $10 billion over nine years for new rental homes, it does not propose major tax breaks for homebuilders.

Tax incentives proved to be an effective way to stimulate residential construction in the past, said Don Carson, tax partner at MNP.
"They really drove supply," he said.
https://globalnews.ca/news/5069183/budget-2019-canada-housing-affordability/
© 2019 Global News, a division of Corus Entertainment Inc.